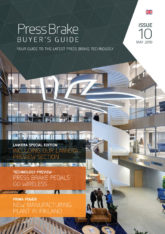 Issue 10: LAMIERA 2019 Special Edition
In this issue:
Our LAMIERA exhibition preview section and pavilion map.
Technology Preview - Press brake foot pedals go wireless.
The official opening of a new Prima Power manufacturing facility in Finland.
The new TRUMPF TruBend Series 7000 press brakes - Convenience and speed reloaded.
Prima Power showcases its range of machines for all sheet metal processing needs.
Warcom interconnected machines for industry 4.0 production process.
Discover more than 60 machine models from 22 leading press brake manufacturers.