Press Brake Buyer's Guide Magazine
View the Latest Issues of the Press Brake Buyer's Guide Magazine
View this issue
<div style="position:relative;padding-top:max(60%,326px);height:0;width:100%"><iframe allow="clipboard-write" sandbox="allow-top-navigation allow-top-navigation-by-user-activation allow-downloads allow-scripts allow-same-origin allow-popups allow-modals allow-popups-to-escape-sandbox allow-forms" allowfullscreen="true" style="position:absolute;border:none;width:100%;height:100%;left:0;right:0;top:0;bottom:0;" src="https://e.issuu.com/embed.html?d=6471_laz-pbbg_2023_issue_14_lamiera_web&hideIssuuLogo=true&showOtherPublicationsAsSuggestions=true&u=pressbrakebuyersguide"></iframe></div>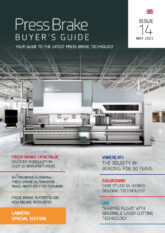 Issue 14 : Lamiera 2023 Special Edition
In this issue:
Autonomous Guarding: Press brake automation takes another step forward.
Level 3 Autonomous Guarding technology is set to change the way in which machine operators interact with press brakes.

LVD is 'Shaping Flows' with Bending & Laser Cutting Technology
LVD spotlights the theme of "Shaping Flows" with its latest model of Dyna-Press electric-drive press brake, an ultra-practical laser cutting machine and CADMAN® software suite for optimised fabrication on display at Lamiera.

Prima Power solutions protagonists at the LAMIERA exhibition
For Prima Power this event will be an opportunity to present the most recent solutions and to discuss the latest trends in the sector with Italian and international visitors in a large stand designed, also from the point of view of hospitality, to make networking even more enjoyable and effective.
Vimercati: The solidity in bending for 50 years Italian press brake manufacturer
Italian press brake manufacturer Vimercati has been guaranteeing ongoing and prompt supply of machinery and technical assistance to customers since 1973.

Aspir Mecc invests in Salvagnini Hybrid Press Brake Technology
Terni-based company Aspir Mecc invests in a Salvagnini B3: a hybrid press brake, designed by combining the characteristics and benefits of the most common electrical and hydraulic solutions on the market.
TRUMPF launches new bending machine for XXL parts
TruBend Series 8000 machines from TRUMPF bend oversize parts faster and more efficiently.

ACCURL Launches New 100% Electric Press Brake eB Ultra Series
ACCURL, a leading manufacturer of sheet metal machinery, has recently announced the launch of its newest product, the eB Ultra 100% Electric Press Brake. This machine is the latest addition to the company's product line and is set to revolutionize the sheet metal bending industry with its cutting-edge technology and impressive energy efficiency.
TRUMPF laser-blanking system cuts costs and saves 4000 metric tons of CO2 a year
The new TruLaser 8000 Coil Edition is suitable for any industry that requires flexible, high-volume cutting solutions.
Press Brake Buyer's Guide Website Update
The Press Brake Buyer's Guide website has been expanded, and now presents 26 leading press brake manufacturers, more buying resources, and features more than 700 machine models for you to search and compare.
View this issue
<div style="position:relative;padding-top:max(60%,326px);height:0;width:100%"><iframe allow="clipboard-write" sandbox="allow-top-navigation allow-top-navigation-by-user-activation allow-downloads allow-scripts allow-same-origin allow-popups allow-modals allow-popups-to-escape-sandbox" allowfullscreen="true" style="position:absolute;border:none;width:100%;height:100%;left:0;right:0;top:0;bottom:0;" src="https://e.issuu.com/embed.html?d=laz-pbbg_2022_issue_13_euroblech_web_eng&hideIssuuLogo=true&u=pressbrakebuyersguide"></iframe></div>
Issue 13 : EuroBLECH 2022 Special Edition
In this issue:
EuroBLECH Preview. Discover all our partners and press brakes on display at EuroBLECH 2022.
Salvagnini B.3AU-TO - The ideal press brake for every need.
Designed combining features and benefits of electric and hydraulic solutions.

The Future of Autonomous Press Brake Guarding.
Advanced technologies have narrowed the gap between safety and productivity.

LVD - Bringing the smart factory to life at EuroBLECH.
LVD puts the focus on smart manufacturing showcasing interconnected sheet metal fabrication processes at EuroBLECH, with the theme of "Shaping Flows."

Wireless Freedom for Press Brake Operators.
Machine operators can now experience greater freedom and benefit from improved ergonomics and safety when operating press brakes, thanks to the latest advancements in wireless foot pedal technology.

Prima Power at EuroBLECH – Your journey towards the future of automation starts here.
Prima Power invites visitors at EuroBLECH to make a journey towards the future of manufacturing.

The new VICLA ATC fully automated tool changer makes its debut
VICLA Automatic Tool Changer provides the ability to produce multiple bending stations that require various tooling types with only one setup.

TRUMPF makes laser processing more sustainable
At this year's EuroBLECH trade show, TRUMPF is showcasing the new Eco Cooler, a sustainable cooling solution for laser-cutting machines.

Gasparini - Shaping your ideas.
With it's offerings, expertise and experience, Gasparini is the ideal partner for your projects.
Press Brake Catalogue. Our catalogue section presents a range of press brake models and specifications from our manufacturing partners.
Looking for more information?
View our Showroom pages to learn more about the latest press brake models, view product videos and enquire directly with press brake manufacturers.
Explore the Press Brake Showroom