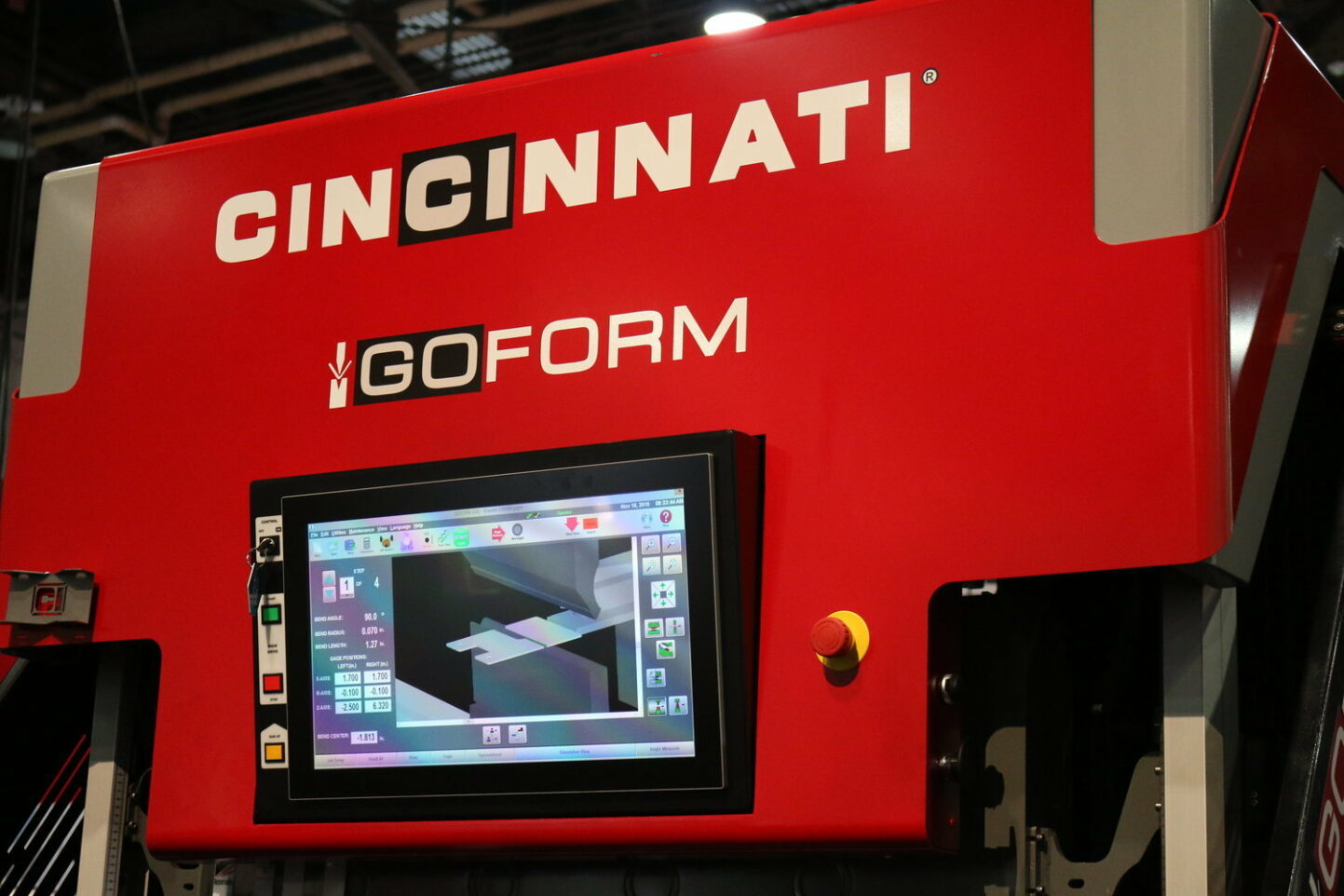 Cincinnati Incorporated (CI) demonstrates the recently released 60-ton Goform press brake and its latest additive manufacturing system for small custom parts and prototypes at Fabtech Mexico (May 2-4, Mexico City). The CI booth (#3450) also includes demonstrations of new control upgrades, machine monitoring via CIberDash, and an interface with Help Lightning, to provide machine data instantly via "mobile merged reality."

CIberDash is an Industry 4.0 solution that allows users to monitor production data from CI lasers, press brakes, or shears, in real time. The data is resident in the machine's control and is connected to the utility via a network. The network connection between the machine and CIberDash is through an ethernet connection or a cellular transmitter from CI called CIberLink. The dashboard is configured to display information desired by the user, as well as the status of the production of each CI machine. The utility includes a StackLight graphic to quickly convey machine status via a familiar graphic.
The new 60-ton Goform uses high-resolution incremental encoders to ensure exceptional ram repeatability for accurate small-part forming. Like its "little brother" the 40-ton model, the new Goform is configurable to the three major tooling styles – American, WT/New Standard and European. Express Clamp systems from Wilson Tool provide fast setup, self-seating and low maintenance with leak-free mechanical clamping. The Express Die Holder uses a full-length clamp, rather than multiple set screws, allowing segmented dies to be used anywhere along the length of the bed. The European 1V and 2V die holders can be used directly on the bed, without filler blocks.
The SAAM (Small Area Additive Manufacturing) system is powered by NVBOTS and uses fused filament fabrication (FFF) technology to 3D-print plastic parts directly from a CAD design. The system allows designers to prove-out part designs while saving material and time. Once the design has been validated for form and functionality using SAAM, the same files are used to produce full-scale parts on BAAM or metal fabrication equipment. SAAM also simulates parts produced by non-additive machines, and the same CAD file used for the prototype can be sent to a laser or press brake for metal fabrication. It dramatically reduces waste in the design process and accelerates advancement to the production phase.
CI's additive systems, which include BAAM (Big Area Additive Manufacturing), were developed as part of a cooperative research and development agreement between CI and Oak Ridge National Laboratory, have enabled significant new manufacturing capabilities to a wide range of industries including automotive, aerospace, marine, appliance and more. BAAM is the large-scale additive system built on a fabricated frame and CI's patented advanced linear drive motors. The system extrudes a wide variety of thermoplastics and fiber reinforced thermoplastics to build parts layer-by-layer. SAAM uses the same process to produce prototypes and smaller parts, saving materials and providing a right-sized solution for additive applications.
"We're continuing to bring our latest developments to Fabtech events," said Matt Garbarino, Director of Marketing Communications for Cincinnati Incorporated. "In Mexico City, it is the 60-ton Goform press brake, a larger version of our 40-ton model, and the new, larger touchscreen control. On the additive side, the SAAM system is proving to be the perfect compliment to BAAM, and our booth display shows how it fits into our solutions mix."
Cincinnati Incorporated is a technology leader in manufacturing fiber and CO2 lasers, automation, press brakes, shears, as well as BAAM and the new SAAM. In addition, CI's powdered metal compacting presses are the most advanced additive process used for high-volume production metal parts. PM presses cost-effectively produce parts that make cars lighter and more efficient.